Epoxy Adhesive With Very Low Thermal Resistance
Featured Product from Master Bond, Inc.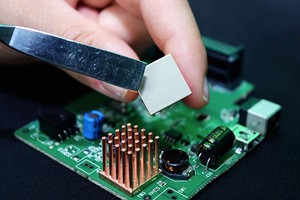 Master Bond Supreme 18TC is a single component epoxy adhesive that contains a blend of special thermally conductive fillers. This smooth paste system can be applied in bond lines as thin as 10-15 microns. It offers an exceptionally low thermal resistance of 5-7 x 10-6 K•m2/W and a thermal conductivity of 22-25 BTU•in/ft2•hr•°F [3.17-3.61 W/(m·K)]. Heat transfer capabilities of this product are outstanding. Supreme 18TC also passes NASA low outgassing tests and can be used in applications in the aerospace, electronic, optical, specialty OEM and cryogenic industries.
Supreme 18TC maintains high bond strength properties even when exposed to hostile environmental conditions, including high/low temperatures. It bonds well to a wide variety of substrates including metals, composites, ceramics and plastics. This compound offers a tensile lap shear strength of 2,200-2,400 psi, a tensile strength of 6,000-7,000 psi, a t-peel strength of 5-10 pli and a compressive strength of 22,000-24,000 psi.