Heavy & Light Duty Magnetic Bulk Parts Lifters
Product Announcement from Master Magnetics, Inc.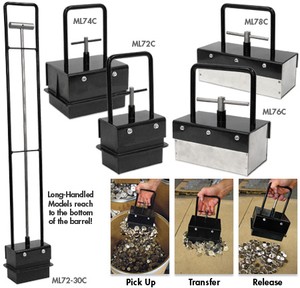 Heavy Duty Magnetic Bulk Parts Lifters
Don't grab a handful of sharp nails or screws with your bare hands - use a magnetic bulk parts lifter! Heavy duty magnet attracts ferrous metal parts, then a fingertip pull on the release bar drops the entire load in its desired location. Easily transfer bulk metal pieces including nails, screws, nuts, washers, eyebolts or other ferrous metal items. Models ML72 and ML74 are available with standard or long handle and nylon base. Models ML76 and ML78 are stainless steel with regular handle only.
Light Duty Magnetic Bulk Parts Lifter
A low-cost time saver! Transfer and pick up nails, screws, nuts or any small metal objects, then pull the handle to release the objects in the desired location. Smooth, uninterrupted sides allow for fast burrowing. Prevents injuries from sharp metal objects. Its heavy duty canister is lightweight and features an easy-to-grip handle. Lifts up to one pound of 2.5" nails. Measures 3.5" dia. x 6.75" high.
For more information please continue to our website.
---