Magnetic Bulletin Bars from Master Magnetics, Inc.
Featured Product from Master Magnetics, Inc.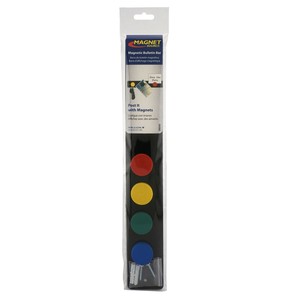 The new Magnetic Bulletin Bars turn any surface into a magnetic board. Strong magnets are included to keep your calendars, photos, to-do lists, important documents and more displayed and organized on a powder-coated or bushed steel bar. It also is ideal for posting orders, pick lists and other similar documentation in warehouses and high-traffic areas. The Magnetic Bulletin Bar includes removable adhesive strips and screws to easily mount to any wall. Update your displayed items in minutes with magnets.
The adhesive strips adhere to smooth or textured surfaces including tile, glass, concrete, plastic and wood. Do not use the adhesive strips on wallpaper or delaminating surfaces. Pair the Magnetic Bulletin Bar with any Master Magnetics posting magnets to add versatility and functionality to your display. Use Magnetic Bulletin Bars in your home, office, classroom, dorm room or anywhere you want to keep important photos, documents or light-weight artwork organized, handy and safely out of the way.
There are two styles to choose from:
A brushed steel bar, .75" wide x 14" long, with four neodymium disc magnets. (Neodymium magnets are not for children.)
A powder-coated bar, 2" wide x 14" long, available in white or black with four rubber-coated ceramic disc magnets.