Material Handling Heavy-Duty Lifting Magnets
Featured Product from Master Magnetics, Inc.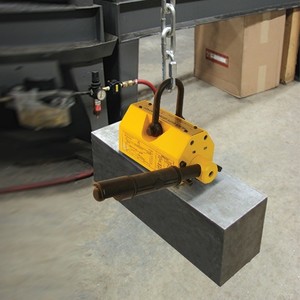 Heavy-Duty Neodymium Lifting Magnets securely lift workloads with either flat or round surfaces while providing an easy-to-use on/off lever. These magnets improve safety and maximize efficiency when lifting and transporting heavy materials.
The magnet can be manually locked in the "on" position to reliably carry the contents and switched "off" for fast unloading. Heavy-Duty Lifting Magnets do not require electricity to operate, ensuring that loads won't suddenly and hazardously be released from the lifter in the event of an electrical outage. They are ideal for handling non-flexing steel plates, forgings, die castings and similar items in machine shops, warehouses and industrial processing plants.
Implement these tools into your material handling operations and let the magnets do the rest. Available in five models with flat lift ratings ranging from 220 to 4,400 lbs. (round lift rating is 50 percent of flat), these lifting magnets tackle the toughest jobs without damaging the surface of your materials.
Lifting strength varies depending on multiple factors, including the thickness and ferrous metal content of the object being lifted. For safety, the actual breakaway force is 3.5 times greater than the maximum lift ratings. Heavy-Duty Lifting Magnets are not recommended for lifting sheet metal.