Material Handling Heavy-Duty Lifting Magnets
Featured Product from Master Magnetics, Inc.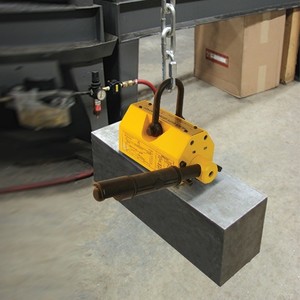 Master Magnetics Inc. (The Magnet Source ) Heavy-Duty Neodymium Lifting Magnets provide extraordinary strength in a compact size, ensuring safety and speed for lifting heavy loads. Designed to lift both flat and round ferrous metal items, they are ideal for handling steel plates and similar items in machine shops, warehouses and industrial processing plants.
Heavy-Duty Neodymium Lifting Magnets are permanently magnetized, and do not require electricity to operate. Work pieces can be safely loaded and unloaded with the simple on/off lever and locking mechanism.
Available in five models with flat lift ratings of 220, 660, 1,320, 2,200 and 4,400 lb.; round lift ratings are 50 percent of the flat ratings. For safety, the actual breakaway force is 3.5 times greater than the maximum lift ratings.