No Stamping Job Is Too Large For Maudlin!
Service Detail from Maudlin & Son Manufacturing Co., Inc.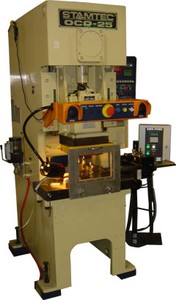 Stamping
For those who need to produce parts from any type of material and temper, Maudlin stamping is ideal. We excel at manufacturing high quality tooling for production and short run parts—with close tolerance on intricate, symmetrical, or irregular parts. We also offer secondary forming operations that can be included on progressive dies or after the blanking of the parts. Choose Maudlin, and we'll empower your manufacturing environment through:
Full-service tool & die manufacturing capabilities, including wire EDM, machining (mills/lathes), grinding, and heat treating
Valuable processes like bending, shearing, drilling, welding/jigs, assemblies tapping, reaming, grinding, and fixtures
quick turnaround on most stamping jobs
High quality stamping that meets or exceeds industry standards
Same-day service on most quotes
Maudlin, fully equipped for any size job.
With a 100-ton punch press capacity, a 40,000 square ft. plant, and over 50 pieces of state-of-the-art production equipment—no stamping job is too large for Maudlin. Our equipment capabilities include:
Blanking
Forming
Notching
Piercing
Progressive Dies
And like all of our products and services, our metal stamping is fueled by an absolute commitment to your satisfaction and schedules.
ISO 9001:2008 Certified
Maudlin & Son Manufacturing, a Houston, TX, company was built on three unwavering Commitments-a commitment to craftsmanship, quality, and meeting the most demanding industrial requirements.
Other manufacturing companies can take weeks, even months, to deliver on your vital industrial products. Not so with Maudlin. We offer 24-hour turnaround on all stock items and our experienced personnel will do everything in their power to ensure your rotating-equipment needs are fully met. In an environment where speed and thousandths of an inch matter, you would accept nothing less. Neither do we.
Dedicated to family. Driven by excellence.
Maudlin is family-owned and has served the Houston area since 1938. In fact, our ownership and management consist of third and fourth generation family members, and many of our employees have been with our company for over twenty years.
That means you work with true industry experts who completely understand your environment. More importantly, it means you're empowered by a friendly, knowledgeable staff who can tackle your most demanding challenges-on time, every time. Don't take chances with your rotating equipment. Rely on the pride and experience of Maudlin.
Maudlin, for all of your shim & alignment needs.
Located in a 40,000 square-foot plant, Maudlin offers a complete line of Stainless Steel Slotted Shims; Plastic Slotted Shims; Key Stock; Feeler Gage; Coil Shim Stock in stainless, brass and steel; Plastic Shim Stock; Flat Sheets; and our new Stainless Steel Foil Wrap.
We also offer a state-of-the-art custom job shop with water jet, laser cutting, wire EDM, and metal stamping capabilities. To ensure the quality of our work, we deploy a high-speed inspection system and offer full advanced inspection reports that adhere to ISO and QS requirements.
Compare our precision, pride, experience, and unyielding commitment to customer service excellence and you'll find the choice is obvious…
Products:
What makes a shim a Maudlin shim?
That's easy. It's our family-driven dedication to product quality and our ability to tackle your shim & alignment challenges NOW. Simply put, when you need it right, and you need it now-you need Maudlin. We offer:
24-hour turnaround on all stock shims
No minimum orders on all stock shims
Tightest tolerances in the industry
The industry's flattest shims to eliminate soft foot problems
An exclusive adjustable shim organizer with every kit to protect your investment and simplify your tool-room environment
Custom packaging upon request
Maudlin Products 302/304 Stainless Steel Shim Coil are packaged individually and color coded with RED labels describing thickness, width, length and material type. Sizes .001"-.009" are packaged in the small, white packages while size .010" and larger are packaged in the large brown boxes shown on the right. Qty is 1 coil per box.
Have a smaller job? Need a specific size? Try the Maudlin Products 302/304 Flat Pack Assortment. Made from the same high quality materials as our shims and shim stock, the 302/304 6" x 12" Flat Pack Assortment includes several thicknesses to meet your alignment needs.
Our 309 Stainless Steel Tool Wrap is the ideal solution for heat treating tooling. Just wrap the tooling in the tool with the edges crimped to form an envelope. This creates an air-tight package that will prevent the loss of surface carbon. Don't let your tooling become scaled or damaged. Protect your investment while eliminating charcoal and sawdust box packaging with Maudlin Products 309 Tool Wrap.
Our square keystock is made of C45 Steel and zinc plated for corrosion resistance. Each piece is clearly marked with size for easy reference. Our keystock is available in standard 12" lengths. Other lengths and materials are generally available upon request, so please call for a special order today!
Steel Shafting
Screw Assortments
Maudlin Cantilevered V-Spring
Quality, Craftsmanship & Convenience
Don't take chances or waste time with a manufacturing company that doesn't know the cantilevered v-spring. Rely on the experience and speed of Maudlin to meet all of your spring needs. Eliminate long lead times and reduce your onsite inventory through:
Kanban and Network Procurement Programs
24-hour turnaround on all stock items
No minimum orders on all stock items
We stock Finished V-Spring in Elgiloy and 301SS
Custom packaging upon request
Maudlin has the extras you need! Need a place to store your loose shims or want to create your own kit? Clean up with our sturdy green tool boxes perfect for shim storage! Looking for sharp snips to cut your coil shim stock? For a smooth cut try our new snips on Maudlin Products plastic, brass, stainless, or steel coil! Want to protect your hands while on the job? Our Kevlar/Cotton knit blend gloves help protect you against cuts and abrasions. As always, Maudlin stays committed to meeting your product and service requirements each and every time!
ISO 9001:2008 Certified
Our Custom Job Shop was built on one simple premise-that standard sizes do not fit all. Partner with a manufacturing company that doesn't fully understand this premise and you could be putting your valuable machinery in harm's way. Don't take that chance, partner with Maudlin.

With approximately 70 years of manufacturing experience, Maudlin is unparalleled in providing affordable, high quality custom products to satisfy the most unique requirements. Every one of our manufacturing professionals thoroughly understands your specialized environment and knows what it takes to ensure your equipment is protected. More importantly, they're dedicated to ensuring your schedules are met-with one of the fastest turnaround times for custom products in the industry! Our capabilities include:
We have been Wire EDM cutting for NASA/Aerospace contactors since 1980. Our engineers and programmers will take the time to understand your EDM requirements. We get it right the first time.
Houston's most experienced and full service water jet cutting facility. Any shape, any size, any time. We won't make you wait. Not sure if water jet cutting is right for you? Ask us for a free sample, you'll be glad you did.
Fastest turnaround on custom made shims in the industry. We can design, reverse engineer, or manufacture from a print to meet or exceed the highest of expectations. Protect your investment today with Maudlin custom shims
Standard Cantilever Spring sizes in stock 000 series thru 500 series both Elgiloy and 301 Stainless Steel ready to ship today! Competitively priced from 100' to 10000' whatever you need we've got you covered.
Maudlin has been stamping parts for over 70 years specializing in short run and high production requirements. Ask your sales representative about a custom kanban program to meet your specific needs.
Houston' newest and most automated laser cutting system is now available at Maudlin & Son Mfg. We can offer you the highest productivity at reduced hourly costs.
---