Providing The Tightest Tolerances Available!
Service Detail from Maudlin & Son Manufacturing Co., Inc.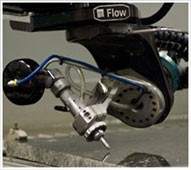 Why Choose Maudlin for your water cutting needs?
Maudlin & Son offers the very latest in water jet cutting technology. Our 5 axis Mach 4 system provides the tightest water jet cutting tolerances available. This is made possible by Dynamic cutting technology. Combined with HyperPressure technology we can virtually eliminate stream lag and taper. Dynamic cutting heads and HyperPressure Technology also reduces cycle times, consumes less abrasive, and saves you money.
Dynamic XD faster and more accurate
With our Dynamic Water jet XD technology from Flow we can cut 2-4 times faster than conventional water jet cutting. The XD head allows for advanced beveling up to 60 degress for added versatility and easy cutting of complex parts in 3D.
Dynamic Water jet is able to cut a maximum speed with out sacrificing cut quality. This is made possible with advanced SmartSteam Technology. SmartStream technology is a series of mathematical models that automatically tilt the water cutting head to the side as needed in order to eliminate taper. As a result higher cut quality is achieved, possibly eliminating further secondary operations, saving our customer valuable time and money.
Higher Pressure = Productivity
HyperPressure Technology delivers significant productivity gains over traditional ultrahigh-pressure systems. HyperPressure powered water jets can cut up to 30-50% faster than traditional water jet pumps. This is made possible because the HyperPressure pump can deliver continuous 87,000psi, nearly 45% more pressure than traditional water jet technology. As pressure goes up stream velocity increases, delivering greater cutting power density. Increasing water pressure means the stream is moving faster and reduces in diameter, resulting in 30-50% less abrasive being used. Although less abrasive is entering into the stream, each particle is now carrying more momentum and cutting power.
In summary, HyperPressure powered machines cut faster, lower expensive abrasive cost, all while increasing production. It's a win win for our customers.
Capabilities
Whatever your business-automotive, aerospace, stone and tile, tool and die, gaskets, fabricator, or job shop - you can cut metal, stone, plastics, composites, glass, ceramics, rubber and more. Zip through materials up to 8 inches thick with no heat affected zone and superior edge quality.
With XD Dynamic Head Technology cutting tapers and counter sinking holes is no problem. Combine this with a satin smooth finish that we provide you eliminates the need for secondary operations.
ISO 9001:2008 Certified
Our Custom Job Shop was built on one simple premise-that standard sizes do not fit all. Partner with a manufacturing company that doesn't fully understand this premise and you could be putting your valuable machinery in harm's way. Don't take that chance, partner with Maudlin.

With approximately 70 years of manufacturing experience, Maudlin is unparalleled in providing affordable, high quality custom products to satisfy the most unique requirements. Every one of our manufacturing professionals thoroughly understands your specialized environment and knows what it takes to ensure your equipment is protected. More importantly, they're dedicated to ensuring your schedules are met-with one of the fastest turnaround times for custom products in the industry! Our capabilities include:
We have been Wire EDM cutting for NASA/Aerospace contactors since 1980. Our engineers and programmers will take the time to understand your EDM requirements. We get it right the first time.
Houston's most experienced and full service water jet cutting facility. Any shape, any size, any time. We won't make you wait. Not sure if water jet cutting is right for you? Ask us for a free sample, you'll be glad you did.
Fastest turnaround on custom made shims in the industry. We can design, reverse engineer, or manufacture from a print to meet or exceed the highest of expectations. Protect your investment today with Maudlin custom shims
Standard Cantilever Spring sizes in stock 000 series thru 500 series both Elgiloy and 301 Stainless Steel ready to ship today! Competitively priced from 100' to 10000' whatever you need we've got you covered.
Maudlin has been stamping parts for over 70 years specializing in short run and high production requirements. Ask your sales representative about a custom kanban program to meet your specific needs.
Houston' newest and most automated laser cutting system is now available at Maudlin & Son Mfg. We can offer you the highest productivity at reduced hourly costs.
Maudlin & Son Manufacturing, a Houston, TX, company was built on three unwavering Commitments-a commitment to craftsmanship, quality, and meeting the most demanding industrial requirements.
Other manufacturing companies can take weeks, even months, to deliver on your vital industrial products. Not so with Maudlin. We offer 24-hour turnaround on all stock items and our experienced personnel will do everything in their power to ensure your rotating-equipment needs are fully met. In an environment where speed and thousandths of an inch matter, you would accept nothing less. Neither do we.
Dedicated to family. Driven by excellence.
Maudlin is family-owned and has served the Houston area since 1938. In fact, our ownership and management consist of third and fourth generation family members, and many of our employees have been with our company for over twenty years.
That means you work with true industry experts who completely understand your environment. More importantly, it means you're empowered by a friendly, knowledgeable staff who can tackle your most demanding challenges-on time, every time. Don't take chances with your rotating equipment. Rely on the pride and experience of Maudlin.
Maudlin, for all of your shim & alignment needs.
Located in a 40,000 square-foot plant, Maudlin offers a complete line of Stainless Steel Slotted Shims; Plastic Slotted Shims; Key Stock; Feeler Gage; Coil Shim Stock in stainless, brass and steel; Plastic Shim Stock; Flat Sheets; and our new Stainless Steel Foil Wrap.
We also offer a state-of-the-art custom job shop with water jet, laser cutting, wire EDM, and metal stamping capabilities. To ensure the quality of our work, we deploy a high-speed inspection system and offer full advanced inspection reports that adhere to ISO and QS requirements.
Compare our precision, pride, experience, and unyielding commitment to customer service excellence and you'll find the choice is obvious…
Products:
---