Consistent results in conformal coating process
Product Announcement from Max Machinery, Inc.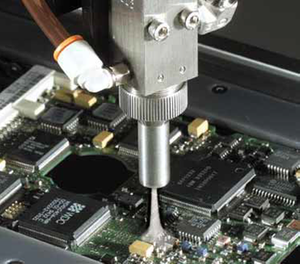 Cutting edge technology can be brought to its knees just by exposing the circuitry to environmental moisture. To prevent product failure, military and consumer electronics have their circuit boards overlaid with conformal coating. The spray coating process applies a moisture blocking resin to the circuit boards found in cell phones, automotive electronics and other outdoor devices.
The high-resolution output and low-flow rate accuracy of the Max meters has caught the attention of the coating industry. The Model 213 is rapidly becoming the measurement standard for this application.
Quick delivery of these meters is important to the end customers who are trying to release the latest versions of their devices as the product demand swells. By supplying the conformal coatings meters, Max is making it possible to deliver properly treated circuit boards to meet the time sensitive product launch. By using the Max meter to ensure per piece accuracy of the coating process, the end user can increase production speeds while reducing product variation to eliminate potential recalls.
The high resolution of the Max Model 213 meter and Model 295 transmitter takes closed-loop flow control to a new level. With better than 1000 pulses per ml, the Max meter has the response and resolution to measure the per shot amounts of even the smallest dispensed dots or accurately totalize on/off spray patterns.
Your process can benefit from adding a Max meter as an aftermarket addition to your existing machines. Likewise, insist that high-resolution flow control be a part of your next project's specification. Product consistency will soar while the investment is quickly recouped through tighter control limits and precise, per part Quality Control.
---