Acrobat™ 160 Low-force Fusion Machine
Featured Product from McElroy Manufacturing, Inc.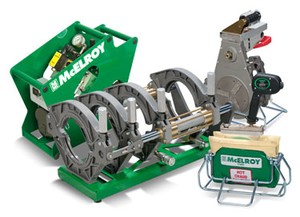 The Acrobat™ 160 is a low-force fusion machine that allows operators to butt fuse pipe in tight work spaces with fusion capability of 63mm - 160mm (2" - 6"). With its small footprint and optimal weight, it is an easy machine to manipulate when performing overhead fusions in tight spaces as well on the ground.
For even tighter spaces, the Acrobat 160 can be configured from 4 jaws to 3 jaws without using tools. It also comes with a Hydraulic Power Unit (HPU) and inserts for commonly butt-fused PP-R pipe sizes. The facer and heater can be loaded from the top or bottom (in the 3-jaw configuration) of the carriage giving the operator better access and flexibility regardless of the joining challenge.
Acrobat™ 160
Small footprint, lightweight
Configures from 4 jaws to 3 jaws without tools
Narrow jaws allow fusions for flanges to outlet branch of tees and most fittings
DataLogger® compatible