Acrobat™ 250 Compact Lightweight Fusion
Featured Product from McElroy Manufacturing, Inc.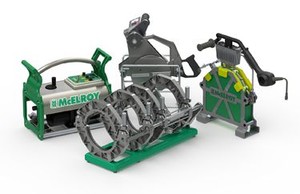 The Acrobat™ 250 has a compact design for easy maneuvering in tight indoor work spaces specific to the polypropylene industry. To further reduce its footprint, the carriage can be configured from 4 to 3 jaws without tools. A single-size insert design can accommodate a variety of pipe sizes, and its narrow jaws allow fusions to most flanges and fittings.
The Acrobat 250 comes with a new lightweight heater and guide rod latching system which eliminates holding the heater in place manually during overhead fusions. Its ergonomic handlebar design makes it easy to use in different orientations, including overhead. The HPU (Hydraulic Power Unit) consumes less power and is lightweight, making it easier to move between jobsites.
Acrobat™ 250
Compact and lightweight for easy maneuvering in tight spaces
Configures from 4 to 3 jaws without tools
Single insert design
Removable upper jaws
Ergonomic heater handlebar design
Lightweight heater construction
DataLogger® compatible
Low-power consumption
Open-frame HPU design offers easy access for maintenance
Adjustable stripper bars for flexibility in fusing fittings