DYNAMC® 250 EP (ELECTRIC PUMP)
Featured Product from McElroy Manufacturing, Inc.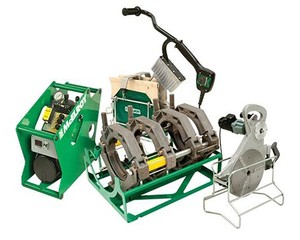 The DynaMc® 28 EP (electric pump) is a small, versatile fusion machine available in 2- and 4-jaw configurations. The low cylinder force machines were designed with a small footprint, allowing fusion operators to take the carriage into small working areas. The 28 EP is powered by the DynaMc Electric Pump HPU, which is a common HPU for a variety of DynaMc EP fusion machines, such as the Sidewall 28 and Compact 28 Vertical. The HPU uses a hydraulic accumulator to maintain fusion pressures and reduce power consumption. The manual carriage manifold of the DynaMc 28 EP is powerful enough to tackle thick-walled pipe and is paired with a strong electric facer that can be loaded from either side of the carriage. Capable of 1,500 PSI fusion pressures, the DynaMc EP is compatible with the DataLogger®. Whether it is one fusion or 100, the DynaMc 28 EP provides the rugged reliability you expect from a McElroy.
• Lightweight, but with rugged, robust features
• Detachable lifting cradle for working in tight spaces
• Serrated jaws and inserts keep pipe from slipping during fusion process
• 4-Jaw units incorporate a full-length guide rod and movable third jaw to allow work in close proximity to ells and tees without removal of outer fixed jaw
• Utilizes McElroy's patented Centerline Guidance System
• Can be paired with McElroy's Low Profile Rollers, Pipe Stands, Stub End Holders and more productivity tools
Includes fusion carriage, facer, facer stand, heater and insulated heater stand. Hydraulic Power Unit (HPU) sold separately.