Easier & Faster Way to Install Fusion Outlets
Featured Product from McElroy Manufacturing, Inc.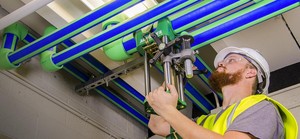 UNIQUE DESIGN KEEPS EVERYTHING ALIGNED
The all-in-one design of the Hornet allows it to self-align on the center of the main pipe while a guided carriage facilitates the drilling of the outlet hole, heating of the pipe and fusion of the fitting without repositioning the machine. The Hornet keeps everything aligned and produces more accurate fusions - an industry first.
REPEATABLE, RELIABLE AND EFFICIENT
The Hornet is an innovative alternative to manual outlet fusion methods. One operator can automatically align the machine on the center of the main pipe thanks to the self-centering, "V-base" design. The quick-change drill and fitting adapters are easily exchanged in and out of the carriage for efficient operations while a rack and pinion drive provides smooth, reliable operations. An integrated ratchet strap holds the Hornet securely in place and is expandable to fit a range of main sizes up to 630mm for branches up to 63mm. The larger, Hornet XL integrates a chain clamp system for branches up to 160mm and main sizes 110mm and larger.
LIGHTWEIGHT AND COMPACT
With a small footprint and weighing just 11 pounds, the Hornet is capable of performing outlet fusions in any orientation - making it ideal for overhead and vertical fusions in tight spaces. The Hornet XL also fuses in any orientation and requires only a single operator.
USES EXISTING MCELROY SOCKET HEADS AND HEATERS
Both the Hornet and Hornet XL work with all McElroy saddle fusion outlet heads for polypropylene pipe in their respective branch and main size ranges. Each socket adapter is Teflon-coated for durability and long life. The Hornet utilizes small McElroy heaters that feature a micro-processor control and dial thermometer for precise, reliable temperature.