FASTER & ACCURATE WAY TO INSTALL FUSION OUTLETS
Featured Product from McElroy Manufacturing, Inc.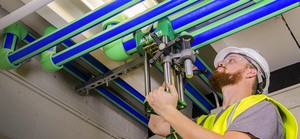 The McElroy Hornet™ fusion outlet tool is the first-of-its-kind, all-in-one machine for outlet fusion on polypropylene pipe. Its innovative design keeps the machine, outlet hole and fusion of the fitting perfectly aligned throughout the entire process — creating more efficient and reliable fusions with less manpower.
The all-in-one design of the Hornet allows it to self-align on the center of the main pipe while a guided carriage facilitates the drilling of the outlet hole, heating of the pipe and fusion of the fitting without repositioning the machine. The Hornet keeps everything aligned and produces more accurate fusions — an industry first.