FUSE WITH CONFIDENCE WITH MCELROY TESTING TOOLS
Featured Product from McElroy Manufacturing, Inc.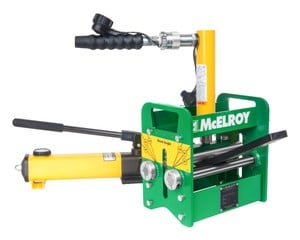 Don't leave your pipelines to chance. Trust McElroy's quality-assured tools to support your fusion operations and know your fusion joints meet the highest standards.
With McElroy's InField® Tensile Tester and Guided Side Bend Tester, technicians can easily and quickly conduct qualitative tests on the jobsite. Gone are the days of cutting a coupon from the pipe and sending it to a lab for analysis!
With the InField Tensile Tester, the coupon is inserted into the tensile test unit, which conducts a destructive test on samples from 2″ IPS and larger, with up to a 5″ thick wall.