Get protection from the weather on job sites
Featured Product from McElroy Manufacturing, Inc.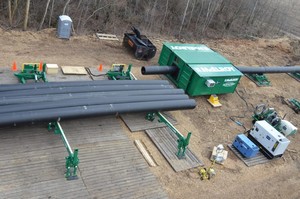 QUICKCAMP™ PROVIDES PROTECTION FROM WEATHER ELEMENTS ON JOB SITES
When it comes to getting the job done, weather can get in the way. The QuickCamp™ prevents that from happening. It's an insulated, climate controlled shelter on site that provides a safe environment to carry out pipe fusions – rain or shine.
The QuickCamp shelter is a 20' by 8' container, that folds into a 21'8" x 24' 7" temporary structure, and houses a hydraulically powered 1236/900 or 824/630 fusion carriage. The shelter can be purchase on its own or there is the option to get the entire QuickCamp System, which comes with a MegaMc® PolyHorse®, MegaMc® Rollers and Pipe Stands. Two people to get everything set-up within 30-minutes to so operators are ready to fuse pipe 8" IPS to 36" OD regardless of the weather conditions.