Hornet Fusion Machine
Featured Product from McElroy Manufacturing, Inc.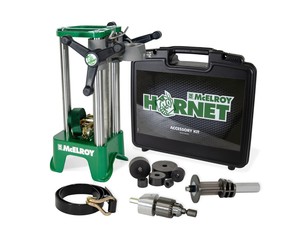 Faster, More Accurate Fusion Outlets
HORNET™
20mm - 63mm Outlets On Mains Up To 630mm
The Hornet is an industry-first, all-in-one tool for polypropylene outlet fusion. It brings an innovative alternative to manual outlet fusion methods that is more productive, repeatable and reliable than ever before. The Hornet's patent-pending design allows it to self-align on the center of the pipe while a guided carriage facilitates the drilling of the outlet hole and fusion of the fitting - keeping everything perfectly aligned without repositioning the machine.
With a small footprint and weighing just 11 pounds, the Hornet is capable of performing in any orientation - making it ideal for overhead and vertical fusions in tight spaces. The Hornet works with existing McElroy socket heaters and fusion outlet adapters for polypropylene pipe.