Trenchless Spotlight: TracStar® Series 2
Featured Product from McElroy Manufacturing, Inc.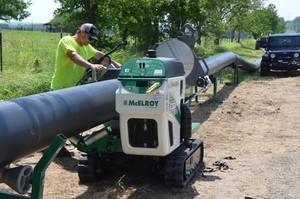 The McElroy TracStar® Series 2 machines are ideal for fusing long polyethylene pipelines installed with slip-lining, pipe bursting and directional drilling technologies. They are easy to maneuver on the jobsite, having everything needed on board including a generator to provide electricity and hydraulic power. The TracStars are self-propelled on a rugged, dual track system which offers greater freedom of movement even across rugged terrain. Each machine's diesel engine has the fuel tank and operational capacity to perform a full day's work bringing fuel efficiency to the jobsite. The TracStars are offered in a wide range of pipe sizes from 2" IPS to 48" OD pipe.
Self-contained, self-propelled, all-terrain
Removable 3- or 4-jaw carriage for close-quarter, in-ditch use
Dual speed tracks
Patented Centerline Guidance for equal distribution of force around the joint
Serrated jaws and inserts keep pipe from slipping during fusion
Thrust-bearing-equipped clamp knobs to minimize force required to clamp and round pipe
Powerful hydraulic facer for facing the toughest pipe with ease
Industry standard semi-automatic hydraulic control system
Teflon-coated heater plates