Jeep Door Lock
Featured Product from McGard Special Products Division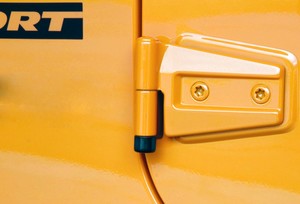 Protect your doors from theft! Replacement doors could cost up to $3,000 each. If you own a Jeep Wrangler your removable doors could be stolen in less than two minutes. The McGard Door Locks fit most Jeep Wranglers, and offers 24 hour theft protection without interfering with the normal day to day operation of your doors.
Easy to install.
High Security through-hardened steel construction prevents gripping, drilling & cutting.
Spin-collar turns if attacked by gripping tools.
Locks match the OEM hinge nuts.
Applications for: JEEP WRANGLER JK, TJ & YJ
Jeep Door Locks - Protects removable Jeep Wrangler doors from theft! Simply replace the lower hinge nuts with McGard door lock nuts.