Perforated Metal Architectural & Decorative Design
Service Detail from McKey Perforating Company, Inc.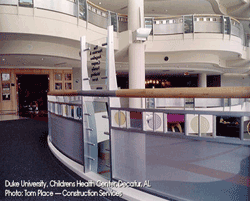 McKey Perforating Company - is a major source for decorative architectural applications that are structurally functional as well as aesthetically pleasing. From roof decking and ceilings panels to lighting fixtures and walkway railings, the company provides the highest quality, service and value.
Perforated Metal is among the most versatile products available today. People use perforated metal in many different areas, including industrial, commercial and architectural uses. It can be produced in a wide range of gauges and provide screening and filtering in a variety of applications. It can be lightweight yet strong and designed to be aesthetically pleasing for any use.
Perforated metal serves to separate, size or filter solids, liquids, light and air, as well as sound. When manufacturing a product that needs to be strong ,yet light in weight turn to perforated metal.
The following represents some of the endless uses of perforated metal.
Exhaust Tubes and Baffles
Construction and Agriculture Equipment Grilles
Small Engine Guards
Roof Decking
Panels and Doors
Grain Bin Floors
Building Soffets
Laundry Drums
Industrial Filters
Ceiling Tiles and Diffusers
Light Diffusers
Store Fixtures
Stair Railings
Mine Screens
Perforated Metal: Industries Served
Because perforated metal is so adaptable to design requirements, it has become a useful all-purpose material for various applications. A cost-effective option for companies of all sizes, perforated metal is used in many industries or markets, including:
Architectural and Decorative
Automotive Exhaust
Industrial Filtration
Lighting Industry
Computer Cabinetry and Electronic Enclosures
Flooring and Ceilings
Point of Purchase Displays
Laundry Equipment
Mining Industry
Construction and Agriculture Equipment
Agriculture Market
Speaker Industry
Perforated Metals: More Information
Perforated metal services can be provided on materials ranging from foil to 1" thick and up to 60" in width on a production basis or wider on a semi production basis. The following materials can be perforated to meet specific design requirements:
Stainless Steel
Aluminum
Carbon Steel
Galvanized Steel
Aluminized Steel
Brass
Copper
Prepainted Metals
Plastic Other Exotics
---