DAQami - Data Acquisition Companion Software
Featured Product from Measurement Computing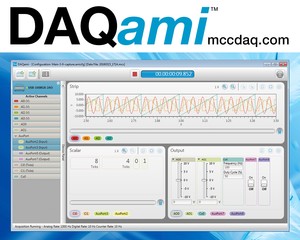 Measurement Computing - DAQami provides an easy-to-use drag-and-drop interface that makes acquiring data and generating signals a quick and simple task.
Hey Highlights:
Out-of-the-box data acquisition companion software for supported USB, Ethernet, and Bluetooth® DAQ devices
Easy-to-use drag-and-drop interface
Acquire and log up to 1 million samples per channel from analog (voltage and temperature), digital, and counter input channels
Generate signals from analog, digital, and counter/timer output channels
Export acquired data to a .csv file for use in Microsoft® Excel® or MATLAB®
English, Chinese, and German language support
Supported Operating Systems: Windows® 10/8/7/Vista®, 32-bit or 64-bit
Try DAQami for 30 Days:

Download and install DAQami and try the fully-functional software for 30 days.
After 30 days, all features except for data logging and data export will continue to
be available. Data logging and data export features can be unlocked by purchasing
the software.