Ethernet-Based 8-Channel Thermocouple Input Device
Featured Product from Measurement Computing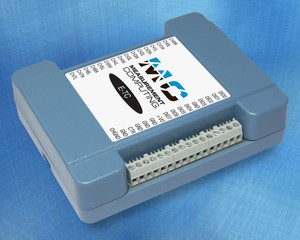 Measurement Computing has announced the release of the Ethernet-based E-TC thermocouple measurement device. The E-TC features eight, high accuracy, 24-bit thermocouple inputs and eight digital I/O and is perfect for remote temperature measurement and control applications.
Key Highlights:

Eight 24-bit differential thermocouple (TC) inputs with TC channel-to-host isolation
- 4 S/s per channel maximum sample rate
- Two integrated cold junction compensation (CJC) sensors
- Open thermocouple detection
- Supports J, K, R, S, T, N, E, and B type thermocouples
8 digital I/O isolated from TC inputs and host
- Digital outputs configurable as TC alarms
- ±24 mA drive capability
10/100 Ethernet interface
Required +5 V external power adapter included
Software
Support for DAQami data acquisition companion software for acquiring data and generating signals
TracerDAQ ® for acquiring and displaying data and generating signals
Universal Library includes support for Visual Studio® and Visual Studio® .NET,
including examples for Visual C++®, Visual C#®, Visual Basic®, and Visual Basic® .NET
Universal Library For Android™ includes support and examples for the Android 3.1
platform (API level 12) and later
DASYLab® andNI LabVIEW™ drivers
InstaCal™ software utility for installing, configuration, and testing
Supported Operating Systems: Windows® 10/8/7/Vista®, 32-bit or 64-bit;
Android 3.1 (API level 12) and later
The E-TC is functionally equivalent to the USB-TC from Measurement Computing, making application migration easy.
Ethernet Interface
The E-TC has a built-in high-speed communication port. Users can remotely access and configure the device with software over the Internet.
Thermocouple Input
Connect up to eight differential thermocouple (TC) input channels to the E-TC. The E-TC supports a maximum sample rate of 4 S/s per channel, and TC types J, K, R, S, T, N, E, and B. TC types are software-selectable per channel.
Cold-Junction Compensation
The E-TC has two high-resolution cold-junction compensation (CJC) sensors (one per four TC inputs).
Open-Thermocouple Detection
The E-TC is equipped with open-thermocouple detection (OTD) for all TC input channels. With OTD enabled, users can monitor for broken or disconnected TCs.
Digital I/O
The E-TC has eight digital I/O channels that are electrically isolated from the analog circuits. Each bit is individually configurable for input or output.
Data can be transferred at rates up to 5 kS/s when the device and host are connected by Ethernet to the same local network. Typical throughput is system-dependent.
All DIO channels are pulled high by default to 5 V through 47 kOhm resistors with a jumper on the circuit board. Each jumper configures the digital port for pull-up or pull-down.
Temperature Alarms
Each digital output can be optionally configured as an alarm for each TC input. When an alarm is enabled, the output line associated with the alarm is driven to the appropriate state determined by the alarm options and input temperature.
Use the alarm outputs to control a device or application that indicates when a temperature threshold has been exceeded, or to indicate an OTC condition.
Counter Input
The 32-bit event counter pin counts TTL pulses, and accepts frequency inputs up to 10 MHz.
Power
The E-TC requires external power from the 5 volt, 1 amp power adapter (PS-5V1AEPS) included with the device.
Calibration
The E-TC is factory-calibrated using a NIST-traceable calibration process. Specifications are guaranteed for one year. For calibration beyond one year, return the device to the factory for recalibration.
The E-TC also offers field calibration so that users can calibrate a device locally.