High-speed USB data acquisition (DAQ) boards
Featured Product from Measurement Computing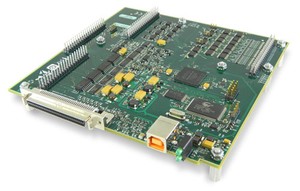 Product Data Sheets - (PDF printable)
USB-2600 Series
High-Speed, High-Channel USB Boards with Single Gain
The USB-2600 Series of high-speed USB data acquisition (DAQ) boards provide a high channel count and high speed analog data transfer. Features include analog, digital and counter/timer functions and increased channel to channel crosstalk protection. Up to four analog outputs are available.
Data Acquisition – A Guide to DAQ Systems
Data acquisition solutions from Measurement Computing provide for a wide range of applications and interfaces. Whether you are measuring current, voltage, temperature, strain or digital signals, MCC offers high-quality hardware with accompanying software and drivers for a quick and customizable data acquisition solution for your unique application.
Stay Connected:
About Measurement Computing
Measurement Computing designs and manufactures data acquisition devices that are easy to use, easy to integrate, and easy to support. Included software options are extensive and provided for both programmers and non-programmers. Free technical support and low cost of ownership make Measurement Computing the easiest choice for DAQ.
More information about Measurement Computing is available at www.mccdaq.com.