Internet Enabled Universal Input Logger
Featured Product from Measurement Computing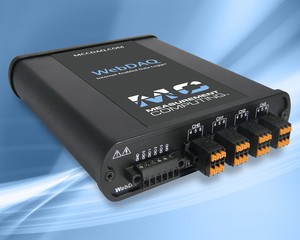 The WebDAQ 904 is a stand-alone universal input logger designed for remote monitoring and control. All the intelligence is built into the WebDAQ, eliminating the need for a PC or additional software. By using the embedded WebDAQ web server, users can easily configure simple or sophisticated applications, log sensor data, update digital outputs and/or send notifications based on alarm conditions, and view real-time data from any location and any device with a web browser.
The WebDAQ 904 performs high-accuracy measurements from up to four analog inputs. Users can measure several signals from sensors such as strain gauges, RTDs, thermocouples, and load cells. Housed in a heavy-duty chassis, the WebDAQ 904 is rugged enough for industrial applications
Highlights:
Log four simultaneous analog inputs
Support for voltage (up to ±60 V), current, RTD, thermocouples, resistance, and bridge-based sensors
Built-in web server allows access from any device with a web browser
WiFi support for wireless operation
View data in real time or post acquisition
Virtually unlimited storage
Easy, flexible task scheduling
Four isolated digital I/O for triggers and alarms
Alarming and notifications with email and SMS messaging
Ability to export .csv data for Excel® and MATLAB®
WebDAQ firmware uses open-source software components; refer to WebDAQ-Licenses for the licensing information of each component. WebDAQ open-source code is available upon request from info@mccdaq.com.
View the entire WebDAQ Series
View the WebDAQ Brochure
Stay Connected with MCC:

About Measurement Computing
Measurement Computing designs and manufactures data acquisition devices that are easy to use, easy to integrate, and easy to support. Included software options are extensive and provided for both programmers and non-programmers. Free technical support and low cost of ownership make Measurement Computing the easiest choice for DAQ.