NEW High-Speed USB Counter/Timer Devices with DIO
Featured Product from Measurement Computing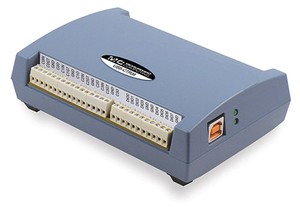 Measurement Computing - The USB-CTR Series of high-speed pulse counter/timer devices consists of the USB-CTR08 (eight counter channels) and USB-CTR04 (four counter channels).
Both devices support multiple counting modes and include four PWM timers and eight individually-configurable digital I/O channels.
Board-Only OEM version's of these devices are also available at:
http://www.mccdaq.com/usb-data-acquisition/USB-CTR-OEM-Series.aspx?mc=gspec
Counter I/O and Gating
USB-CTR Series devices supports an aggregate throughput rate of 8 MB/s.
These devices can be configured for any resolution up to 64-bits, and provide the following data streaming rates for these common resolution settings:
16-bit: 4 MHz
32-bit: 2 MHz
64-bit: 1 MHz
Each counter channel on a USB-CTR Series device has screw-terminal connection points for counter input, counter output, and counter gate.
Counter Input Modes
USB-CTR Series devices support the following counter input modes:
Totalize
Period measurement
Pulse-width measurement
Timing measurement
Debounce Filters
USB-CTR Series devices have debounce circuitry which eliminates switch-induced transients that are typically associated with electromechanical devices including relays, proximity switches, and encoders.
All debounce filter options are software selectable. You can select a debounce time, debounce mode, and rising-edge or falling-edge sensitivity. Each channel can be debounced with 16 programmable debounce times in the range of 500 ns to 25.5 ms.
The signal from the buffer can be inverted before it enters the debounce circuitry. The inverter is used to make the input rising-edge or falling-edge sensitive.
Digital I/O
USB-CTR Series devices can connect up to eight digital I/O lines. The digital I/O terminals can detect the state of any TTL-level input.
Timer Output
USB-CTR Series devices have four 32-bit timer outputs. Each timer can generate a programmable width pulse with a software-selectable frequency in the range of 0.02235 Hz to 48 MHz. At higher frequencies, the timer output frequency and duty cycle depend on the load impedance and the supply.
The timer output rate and pulse width can be updated asynchronously at any time; however, doing so results in a pulse stream that is not seamless.
Trigger Input
USB-CTR Series devices can trigger synchronous acquisitions of counter data internally with software or externally using the digital trigger input screw terminal.
External Clock Pacing
You can pace synchronous acquisition of counter data by the onboard clock or by an external clock connected to the external clock input terminal.
Board-Only OEM version's of these devices are also available at: http://www.mccdaq.com/usb-data-acquisition/USB-CTR-OEM-Series.aspx?mc=gspec