USB/Ethernet-Based Thermocouple Measurement Device
Featured Product from Measurement Computing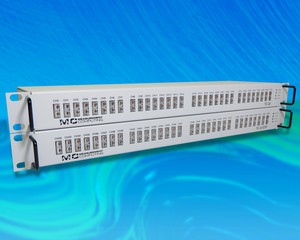 Highlights:

USB and Ethernet interfaces
32 differential thermocouple (TC) inputs

Expandable to 64 TC inputs with TC-32-EXP expansion device
TC channel-to-host isolation

Easy-to-connect mini-jack connectors
24-bit resolution
3 S/s per channel sample rate
Supports J, K, R, S, T, N, E, and B type thermocouples (software-selectable per channel)
Per channel out-of-range alarm configuration
Cold-junction compensation (CJC) sensor per channel
Open thermocouple detection

8 digital inputs and 32 digital outputs/alarms
Expandable to 16 digital inputs, and 64 digital outputs/alarms with TC-32-EXP expansion device
Isolated from TC inputs and host
50-pin header connector (cable sold separately)

19" rack mountable
The TC-32 and TC-32-EXP offer exceptional performance and accuracy for thermocouple (TC) measurement applications at a low cost per channel. Offering both Ethernet and USB ports, the TC-32 provides 32 channels of 24-bit resolution for medium channel installations.
The TC-32-EXP adds 32 high-precision channels to support larger installations.
Accuracy is designed into the product with sigma-delta 24-bit ADCs, differential inputs, TC-to-host isolation and cold-junction compensation (CJC) for each channel to reduce the effects of thermal gradients.
With digital alarming notifications when a temperature exceeds programmed limits, the TC-32 and TC-32-EXP offer the perfect solution for temperature monitoring applications including server rooms, refrigerated storage, and long-run test cells.
Channel Expansion with the TC-32-EXP
Connect a TC-32-EXP expansion device to double the number of TC inputs (64), digital inputs (16), and digital outputs/ alarms (64).
The TC-32-EXP connects to the host TC-32 through a 40-pin expansion connector. The host TC-32 provides all power to the TC-32-EXP.
The TC-32-EXP supports all of the TC input and digital I/O features of the host TC-32, including built-in cold-junction compensation and open thermocouple detection.
USB or Ethernet Interface
The TC-32 can communicate with a host device through either USB or 10/100 Ethernet. By offering both USB and Ethernet ports, the TC-32 is the perfect solution for local or remote monitoring.
TC Input
Connect up to 32 differential TC input channels using the four groups of eight mini-jack connectors on the front panel of each device.
Both the TC-32 and TC-32-EXP support sample rates up to 3 S/s and TC types J, K, R, S, T, N, E, and B. TC types are software-selectable per channel.
Cold-Junction Compensation (CJC)
Each TC input on TC-32 devices has a high-resolution CJC sensor that provides a local cold-junction temperature reference point. This feature ensures the highest level of temperature measurement accuracy.
Data Linearization
After the device performs CJC correction, an onboard microcontroller automatically linearizes the TC data using National Institute of Standards and Technology (NIST) linearization coefficients for the selected TC type.
The data is then output as a 32-bit floating point value in the configured format (voltage or temperature).
Open-Thermocouple Detection (OTD)
TC-32 devices are equipped with OTD for all TC input channels. When enabled, OTD allows users to monitor their TCs and determine if they are broken or disconnected.
Connecting TCs to Common-Mode Voltage Sources
Thermocouple inputs are isolated and thermocouple common-mode voltage may deviate up to 48 VDC or 3.5 VAC (at 60 Hz) from chassis ground without any negative impact to measurement accuracy. Common-mode voltages between channels, however, should not vary more than ±1.4 VDC.
Digital I/O and Alarms
The TC-32 provides up to 8 digital inputs and 32 digital outputs that are electrically isolated from the host device and from the TC-32 analog circuits. This configuration allows users to enable a digital output/alarm for each TC channel.
When an alarm is enabled, its associated output line is driven to the appropriate state determined by the alarm options and input temperature. The alarm configurations are stored in non-volatile memory and loaded at power up. TC-32 input channels are constantly converted on enabled channels and processed for alarm conditions regardless of communications connectivity ensuring proper alarming even if communication to the device is lost.
Alarm outputs can be used to indicate when a temperature threshold has been exceeded. This output can be connected to another device, such as a physical alarm or control system. Each digital output is open-drain, which can sink up to 100 mA for direct drive applications.
The TC-32-EXP provides an additional 8 digital inputs and 32 digital outputs.
Digital I/O signals and alarms are accessible through a 50-pin connector on both the TC-32 and TC-32-EXP.
Power
The TC-32 requires external power. A 5 V, 10 W power adapter (PS-5V2AEPS) is included with the TC-32.
The TC-32 provides power to the TC-32-EXP when they are connected.
Calibration
Both the TC-32 and TC-32-EXP are factory-calibrated using a NIST-traceable calibration process. Specifications are guaranteed for one year. For calibration beyond one year, return the device to the factory for recalibration.
The TC-32 and TC-32-EXP devices also support field calibration so that users can calibrate a device locally.