Voltage Output and Digital I/O for Raspberry Pi®
Featured Product from Measurement Computing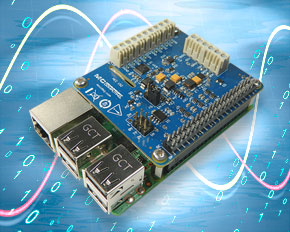 Product Data Sheets - (PDF printable)
MCC 152
Voltage Output and DIO DAQ HAT for Raspberry Pi®
The MCC 152 Voltage Output and DIO HAT provides two channels of analog voltage output and eight digital I/O for Raspberry Pi based systems. The 12-bit voltage outputs feature a 0-5 V range and can be updated at up to 5 kS/s. Up to eight MCC DAQ HAT devices can be stacked onto one Raspberry Pi.
All MCC DAQ HATs provide easy-to-use C/C++® and Python™ open-source libraries and examples allowing you to take reliable, quality measurements quickly.
NOTE: Raspberry Pi is not included with the MCC 152.
Stay Connected with MCC:

About Measurement Computing
Measurement Computing designs and manufactures data acquisition devices that are easy to use, easy to integrate, and easy to support. Included software options are extensive and provided for both programmers and non-programmers. Free technical support and low cost of ownership make Measurement Computing the easiest choice for DAQ.
More information about Measurement Computing is available at www.mccdaq.com