3-Channel Endevco® Voltage Amplifier
Product Announcement from Meggitt Sensing Systems - Measurement Group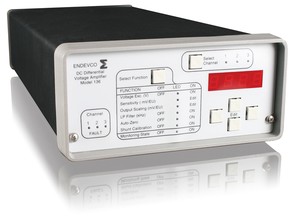 Key features
Three-Channel DC Differential Voltage Amplifier
200 kHz Bandwidth (-3dB Corner)
Auto-Zero and Shunt Calibration
Gain Range 0 to 1000
Four Selectable Excitation Voltage Levels
RS-232 Serial Interface
12 VDC Power Option
Built-in 4-Pole Butterworth Low- Pass Filter
Meets filter requirements of J211 and ISO 6487
Meggitt's Endevco® model 136 three-channel voltage amplifier is designed for use with bridge-type or differential output accelerometers and pressure transducers, in support of general purpose laboratory testing applications.
Featuring an industry standard bench mount configuration and four selectable excitation voltage levels, the 136 offers a standard RS-232 serial communications interface with either manual or computer programmable configuration. Using the supplied PC software setup, the 136 allows for effective control of up to 60 measurement channels within automated test setups. Operation and programming are achieved via the LED illuminated front panel with adjustable gain range of 0 to 1000, and a flexible setup allows for user match of sensor sensitivities with output scaling per Engineering Units in mV/G.
The 136 contains a rear panel RJ-11 connector for the RS-232 serial communications port, an input power connector, a per-channel BNC output connector, and a 9-pin "D" input connector. Units also feature a built-in four-pole low-pass filter. The standard unit is powered by 90-264 VAC, 50/60 Hz and features a 200 kHz bandwidth (-3 dB corner) with auto zero and shunt calibration. A 12 VDC power option is also available for portable automotive testing applications.
Meggitt webinar alert
Challenged by extrinsic noise and possibly corrupted measurement data with piezoelectric and piezoresistive transducers? In our webinar, "Minimizing noise in signal conditioning systems," Meggitt experts discuss the optimal installation of transducers, cabling, and general-test conditioners to minimize noise and ground loops. The recorded webinar is available to stream, on-demand.
---