General Purpose Piezoelectric Accels (2224C)
Product Announcement from Meggitt Sensing Systems - Measurement Group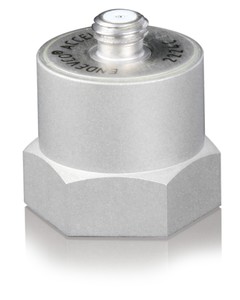 Meggitt Sensing Systems, a Meggitt group division, has introduced the Endevco® model 2224C series, a family of piezoelectric accelerometers, designed for general purpose vibration measurements of smaller structures and components, as well as shaker tables, within aerospace, automotive, electronics, industrial, and in-laboratory applications.
Offered with a 12 pC/g sensitivity, the Endevco® model 2224C series features a 10-32 top connector for convenient mounting within space constrained environments. Series accelerometers incorporate the use of Meggitt's own proprietary piezoelectric crystal technology, operating in annular shear mode. Sensor construction allows for low base strain sensitivity, high resonance frequency and excellent output stability over time. Signal ground is connected to the outer case of the unit and, when used with isolated mounting stud, is electrically case isolated from ground. A low-noise coaxial cable, the Endevco® model 3090C-120, is supplied for error-free operation, along with a 10-32 mounting stud and installation wrench.
Optional accessories, sold separately, include the Endevco® model 2771C-XX remote charge converter; model 2775B benchtop signal conditioner; the model 133 three-channel piezoelectric signal conditioner; or the model 4990A (Oasis) rack mounted signal conditioner and power supply. Various isolation mounts and magnetic mounting bases (both isolated and non-isolated) are also available. All Endevco® accelerometers are accompanied by a comprehensive five-year product warranty. In addition, this series is available for immediate customer shipment as part of Meggitt's Endevco® Guaranteed In Stock™ program.
For more information, visit www.meggittsensingsystems.com.
About Meggitt Sensing Systems
Meggitt Sensing Systems, a Meggitt group division (www.meggitt.com), is a leading supplier of high-performance sensing and monitoring systems for physical parameter measurements in extreme environments. It has operated since 1927 through its antecedents-ECET, Endevco, Ferroperm Piezoceramics, Lodge Ignition, Sensorex, Vibro-Meter and Wilcoxon Research-whose portfolios form the basis of product lines offered by today's Meggitt Sensing Systems. Meggitt's Endevco® range of piezoelectric, piezoresistive, Isotron® and variable capacitance accelerometers, piezoresistive pressure transducers, acoustic sensors, electronic instruments and calibration systems ensure critical accuracy and reliability within aerospace, automotive, defense, industrial, medical, power generation, R&D, space and test and measurement applications. Endevco® and Isotron® are registered trademarks of the Meggitt group. All other trademarks are property of their respective owners.
---