Pressure Transducers for Small Vehicle R&D
Product Announcement from Meggitt Sensing Systems - Measurement Group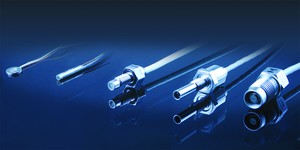 Meggitt Sensing Systems, a Meggitt group division, has announced the immediate availability of its rugged, miniature, high-sensitivity Endevco® piezoresistive pressure transducers to support the rigorous demands of small vehicle research and development.
With models available for immediate customer shipment, Meggitt's Endevco® piezoresistive pressure transducers are used by manufacturers of ATVs, motorcycles, snowmobiles, light rapid transit (LRT), small bulldozers, high-speed railcar manufacturers and their associated vehicle research and development and test laboratories, for high-reliability fuel consumption analysis (air-to-fuel ratio), airbag inflation and safety testing, vehicle transmission testing, anti-lock brake systems (ABS) testing, hydraulic systems monitoring, and high-speed train external pressure variations, vital assessments for maintaining proper safety during tunnel entry.
As an important part of engine performance and durability testing, motorcycle OEMs also run engine prototypes within test cell environments to effectively measure crankcase oil pressures during extended runs. Environments are characterized by highly space constrained conditions for sensor installation. In addition, engine gas exchange analysis is used to evaluate the process by which a motorcycle engine cylinder fills volume with a fuel mixture. The measurement of control engine inlet pressures can be an effective tool for avoiding engine knocking. Exhaust system gas pressure analysis further evaluates unwanted engine behavior.
Endevco® piezoresistive pressure transducer models feature a four-arm strain gage bridge, ion implanted into a silicon diaphragm, for a wideband frequency response. This unique sculptured diaphragm design produces twice the sensitivity of traditional flat diaphragms, resulting in improved resolution. Integral hybrid temperature compensation of these transducers further provides stable performance over a temperature range of -18°C to +93°C (0°F to +200°F), with custom ranges upon request. Units offer lightweight, rugged construction and small diameters, for installation within space constrained environments. They are offered in multiple ranges with up to 300 mV FSO (depending upon model) and excellent non-linearity of <1% to three times over-range with up to 10X minimum burst pressure, up to 20,000 g shock resistance and high stability in temperature transients.
All of Meggitt's Endevco® small vehicle R&D piezoresistive pressure transducers are accompanied by a comprehensive five-year warranty. For detailed specifications, drawings or additional information, visit www.meggittsensingsystems.com.
---