18650 LI-ION Battery Holders
Product Announcement from Memory Protection Devices, Inc.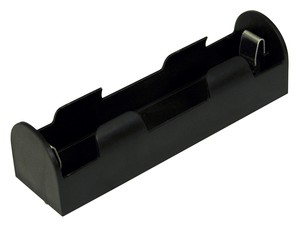 LI-ION "18650" Battery Holders:
MPD introduces a line of Lithium Ion battery holders for 18650 protected cells. These holders accept from one to four 3.7 volt batteries and are suitable for consumer or industrial products. First on the market is part number, BK-18650-PC2, it accepts one of the new LI-ION rechargeable batteries with built in circuit protection.
BK-18650-PC2 has large nickel plated stainless steel pressure contacts with pc pins tails that are 1.5mm wide. While offering low resistance and by keeping a keep a tight connection with the cell by design you're assured of a long term trouble free connection.
The UL94V-0 plastic body is light in weight yet combined with high strength for a long service life under natural conditions found in electronic equipment. The holder size is 77 mm long by 21 mm wide and under 22 mm high. The holder has two mounting holes for hard mounting or it can be bonded down with adhesive or double sided tapes.
Built in circuit protection eliminates the drawbacks associated with standard LI-ION 18650 batteries. Standard 18650 cells are only supplied to manufacturers of battery packs because of concerns that batteries could overheat, potentially causing burns, an explosion or a fire. Protected 18650 cells have 2400 to 3000 mAh and are available from several well known companies.
List price are very reasonable and volume discounts are available. Delivery is normally from distributor stock or after a short waiting period.
---