DL223A/CR-P2 Battery Holder for 6 volt lithiums
Product Announcement from Memory Protection Devices, Inc.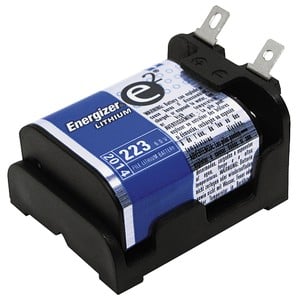 Memory Protection Devices has a holder for 6 volt lithium batteries. Common to digital cameras the DL223A or CR-P2 batteries offer 1400 mAh. Common applications include touch free faucets, hand help portables and main board memory or storage back-up
Battery holder for for CRP2 or DL223A batteries
Featuring fast on tabs/solder lugs that make for quick and easy connections. Tool-less battery changes and mounting with screws, eyelets, double sided tapes, glues or Velcro.
Positive terminal accepts 0.205" fast on tabs.
Negative terminal accepts 0.187" fast on tabs.
Model No. BH223-L is made with a high impact polypropylene body and a flammability rating of UL94V-0. Contact material is stainless steel and nickel plated overall.
---