Miniaturized Vertical Battery Holder - CR1632
Product Announcement from Memory Protection Devices, Inc.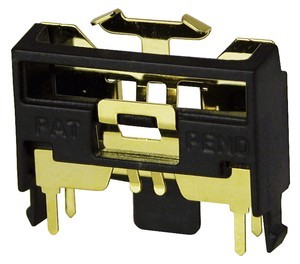 The BV-1632-G is a vertical coin cell holder for CR1632 and BR1632 coin cell batteries. The BV-1632-G is particularly suitable for mainboards with tight space constraints, as we have designed it to be as compact as possible. However, it is also designed to be rugged, and can withstand harsh environments and other conditions often encountered by portable electronics.
The BV-1632-G stands less than 14 mm above the PCB and has a footprint of just 19 mm by 5 mm. Vertical CR2032 holders typically range from 23 to 26 mm above the PCB and have a larger footprint as well, so the use of a CR1632 cell can greatly help to save space. By using a cutout in the PCB, the holder and battery are able to sit through the board, which is how the BV-1632-G can minimize its height so well. The built-in snaps secure onto standard 62 mil (1.57 mm) thick PCBs by using three plastic latches and four solder points, assuring stability under any conditions.
The plastic body is glass-filled nylon, and the metal contacts are nickel-plated phosphor bronze with a gold flash overall. The coin cell is retained by the positive contacts, which slip over the top of the cell and can be pulled back to replace the battery. The redundant contacts increase durability and reduce intermittent connections, assuring years of trouble free operation, all while keeping a tight connection with the cell.
---