Surface mounting CR1/3N battery holder
Product Announcement from Memory Protection Devices, Inc.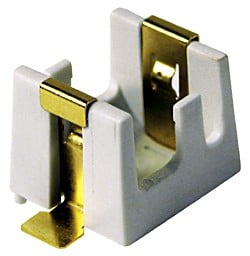 MPD introduces a product for holding DL1/3N or CR1/3N batteries, Model No. BC1/3N-C-SM. Featuring a flexible battery contact member that moves with the battery for improved shock and vibration withstanding. Gold flash over nickel are standard & improve the solder ability of the holder. With a cubed shaped small from factor measuring under ½" high and holding one or two cells. Designers choose between high energy three volt lithium batteries, CR1/3N , DL1/3N and 2L76. Dual 1.5 volt alkaline A76 cells, silver oxide type 357 and equivalent sized cell(s) are widely available.
---