Armored Cordsets
Product Announcement from Mencom Corporation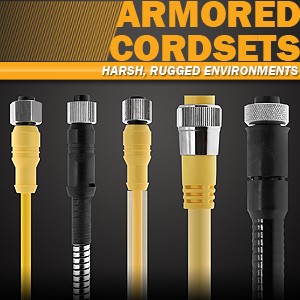 One of the biggest challenges that every manufacturer struggle with is how to prevent downtime or outage caused by connection failure. Abusive manufacturing environments with extreme conditions are where these issues are most likely to take place. Sometimes it is difficult to diagnose and locate the exact problem of the failure because of its complex installation or location. Short and repetitive downtime with constant replacement is usually caused by cable failures and can be prevented by installing proper cables equipped with extra protection.
In most cases the downtime is usually caused by one of following conditions:
Physical failure by repetitive impacts and abrasion with loaded components
Damage by high pressure wash-down and cleaning chemical
Damage by extreme temperature
Weld Slag
The Mencom Armored Cables are designed to prevent failure from such common causes above. The cables feature a stainless steel coupling nut and stainless steel armor jacket which prevent water damage from high pressure washdown, cleaning chemicals and extreme temperature. A silicone tube-covered jacket prevents physical failure by repetitive impacts and abrasion with loaded components as well as protecting the cable from weld slag. A thermoplastic elastomer jacket protects the cable from cleaning chemical. They are available in the M12 connector and MIN(7/8 inch) connector. Custom solutions including wiring and custom pin counts are also available.
Mencom is committed to quality products, competitive pricing and fast-turnaround.
Please Click Here to download the PDF for more details.
If you have any questions, please don't hesitate to call us now.
Monday-Friday 8:00a – 5:00p EST
770-534-4585
---