Mentor's Operations Services
Service Detail from Mentor, a Siemens Business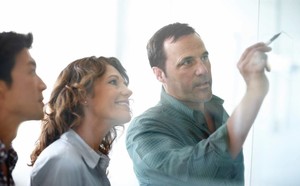 With the increasing complexity of design and manufacturing technologies, it's inevitable that management and administration tasks also increase. Mentor Operations Services can handle these critical activities, leveraging our decades of design and manufacturing management experience to maximize productivity, and reduce your TCO and operations risk. Your team can stay focused on product and production goals. Flexible delivery options make it easy to fit your requirements.
Managed Support Services
Mentor's Managed Support Services provide solutions to effectively manage and administer your design tools and manufacturing environments. Through a pooled team of expert resources, Mentor delivers the right mix of experience and technology know-how across a broad range of Mentor design and production technologies. Managed Support Services are the easiest and fastest way to get specialized help from specific individuals who are familiar with your mix of products, technologies, and design and manufacturing flows.
Infrastructure Services
To ensure you have the best infrastructure to get the most from your Mentor tools, Mentor offers a complete data center hosting service for complex design and verification for a number of Mentor products, including our Emulation Platform solutions. Hosting eliminates capital investment for facility and infrastructure, and dramatically reduces the time needed to bring-up and configure the environment. We also offer a range of other infrastructure management services including flexible access to dedicated on-site or remote Helpdesk services and Managed IT.
Operational Excellence
Mentor can help deliver Operational Excellence in your design, production or manufacturing environment by providing resources that solve your complex problems and move issues to outcomes. A Customer Success Manager is your advocate, bringing years of operations experience to guide support related activities across your organization. They understand your challenges and can fast track solutions. For technology optimization that gives you a competitive edge, a dedicated Technical Support Engineer (TSE) can manage a specific Mentor tool flow in your environment.