Xpedition® IC Packaging Design
Featured Product from Mentor, a Siemens Business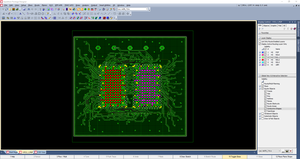 Cost, risk, and the limitations of monolithic scaling are driving growth of multi-die (heterogeneous) advanced IC packaging solutions, creating opportunity throughout the design process. These High Density Advanced Packages (HDAP) are driving a convergence of the traditional IC design and IC package-design worlds.
Emerging technologies, such as fan-out wafer-level packaging (FOWLP), silicon interposers, Chip-on-Wafer-on-Substrate (CoWoS), and Wafer-on-Wafer (WoW) require design teams to work together to optimize the entire system, not just the individual elements.
Proven by companies like Intel®, TSMC, and others, Xpedition delivers the industry's most comprehensive integrated solution for HDAP. Comprised of Xpedition, HyperLynx® DRC, and Calibre® technologies, the Xpedition HDAP flow provides complete design and verification of leading-edge IC package designs.
HDAP design and verification present unique challenges that traditional design tools and methodologies cannot solve. By bringing package and IC design together with tools that can operate in both the IC and packaging domains, the Xpedition HDAP flow enables cooperation and collaboration between design houses, OSATs, foundries, and EDA vendors.