Xpedition® xDX Designer for Schematic Design
Featured Product from Mentor, a Siemens Business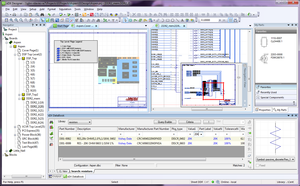 Xpedition® xDX Designer, formerly known as DxDesigner, provides a complete schematic design solution for design creation, definition, and reuse. It provides everything needed for circuit design and simulation, component selection, library management and signal integrity planning in a concurrent team-based design environment.
Designer's integrated desktop enables engineering teams to perform every key design creation task in a single, scalable, concurrent and real-time collaboration environment.
Its customizable project navigator dynamically reflects the project content through a highly concurrent editing session by filtering hierarchical blocks, components, nets and properties as they are added. It also supports bi-directional cross-probing with all editors. Design reuse and variant design are supported, which reduces product time-to-market, improves product quality, and lowers product costs.
Technical Specifications
Powerful search/edit capability through hierarchy
Common constraint definition environment is shared between schematic capture and layout, allowing the evaluation of critical signals at any design stage
Use the library browser to search for IP reuse blocks from other design projects
Variant management for simplified design variant support
Digital, analog, mixed signal, RF design and simulation support
Support for most popular PCB layout packages