Automotive Foam
Product Announcement from Merryweather Foam, Inc.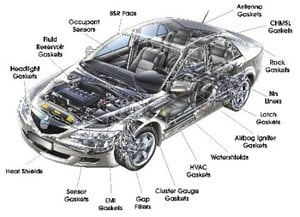 Automotive Foam.
Gaskets & Seals for air, water, dust, light, and electromagnetic interference (EMI)
*Absorbers & Dampers for shock, vibration, impact, and noise control *Gap Fillers & Spacers *Water shields *Heat Shields *Tape Substrates *Cup holders *Bin Liners
Automotive interiors and exteriors present many opportunities where foam solutions can be applied. From bumper to bumper and roof to underside, are used in pillars, headliners, instrument panels, door panels, automotive electronics, HVAC (heating, ventilating, and air conditioning) systems, consoles, engine compartments, fuel systems, trunks, roofs, lights, and doors.
---