Custom Foams and Foam Materials
Product Announcement from Merryweather Foam, Inc.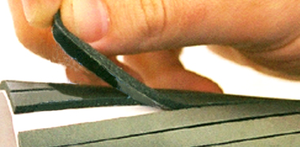 Merryweather Foam, Inc. manufactures custom foams and foam materials to match your specifications.
Including Laminating Adhesives:
Looking for an adhesive solution? Not sure what you need? You're not alone! Adhesives are used with a range of materials and designs that meet the specifications of engineers working in diverse industries. So, how do you determine the best choice for your project? It's not an easy decision to make, but it may well be a critical component of your bottom-line success. To get started, consider these suggestions:
- The right adhesive can ensure long-term functionality. Heat, moisture, indoor/outdoor usage -- these are only a few of the factors that you must consider when selecting adhesives that will be durable for the long term. Inappropriate adhesives result in maintenance problems, unhappy customers, and lost sales.
- The adhesives you use impact final costs. You may find that the right adhesive can replace more expensive rivets and mechanical fasteners. Simply put, it pays to stay alert and informed about your options.
- Adhesives may be acrylic, rubber, or silicone. They can be pressure sensitive or heat activated. Deciding which options best suit your needs can be tricky. When choosing a provider, look for a range of options and long-term experience.
Ready to learn more about innovative adhesive solutions? We can show you.
---