Custom Thermal Insulation / Fireproofing Materials
Product Announcement from Merryweather Foam, Inc.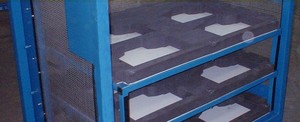 Merryweather Foam Thermal Materials:
Bisco Silicone
Silicones are ideal for sealing, cushioning, vibration isolation, insulation and thermal management gaskets. Their resistance to environmental extremes, mechanical resilience and safety features make them perfectly suited for critical applications in transportation equipment, communications and electrical enclosures, electronic products and components, industrial machinery and appliances.
Sponge Rubber
Product Characteristics/Uses:
- Weatherstripping
- Insulation
- Gasketing
- Sealing

Merryweather fabricates these lightweight closed cell materials for various applications. Controlled compression and recovery characteristics along with shock absorption attributes provide you the answer to those protection applications.
Used with pressure sensitive adhesive, these closed cell materials are highly flexible and adapt to almost all surface applications.
Contact Merryweather Foam, Inc. for custom thermal insulation and fireproofing materials.
---