FILTRATION FOAM
Product Announcement from Merryweather Foam, Inc.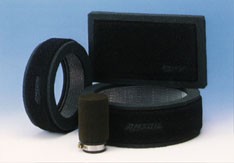 Filtration Foam
Do you need a filtering solution? Not sure what you need? You're not alone! Filters are available in a range of mediums and designs that meet the specifications of engineers working in diverse industries. So, how do you determine the best choice for your project? It's not an easy decision to make, but it may well be a critical component of your bottom-line success.
- The right filter can ensure long-term functionality. Types of contaminants, compression ratio, particle size, physical strength properties -- these are only a sampling of the factors that you must consider. Poor filter choices result in contamination, maintenance problems, unhappy customers, and lost sales.
- Filter choices impact final costs. Simply put, you may find that many commonly used filters cost more than innovative, newcomer solutions. It pays to stay alert and informed about your options.
- Selecting your filtering solution can be a complicated balancing act. For example, how do you screen out harmful particles and also allow for proper air circulation? Consider products that suit multiple purposes, such as foam filters designed to trap contaminants without impeding airflow.
Ready to learn more about innovative filtering solutions? We can show you.
---