MEDICAL FOAM-HEALTH CARE APPLICATIONS
Product Announcement from Merryweather Foam, Inc.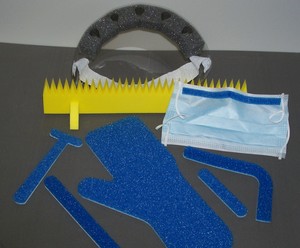 Foam Solutions for Healthcare Applications-Medical
If you have a current or future need for medical foam, Merryweather Foam, Inc. has been fabricating foam parts for the medical industry for many years. Whether its crosslink polyethylene for braces or our urethane's selection for splints or foam applicators. Our people at Merryweather Foam, Inc. can help you with your products requirements.
Merryweather's healthcare materials include BISCO® Medical Silicones, PORON Medical® Urethanes, and crosslinked poleythylebe. These foams are uniquely designed to meet internationally recognized body contact ratings. BISCO Medical Silicones and PORON Medical Urethanes are fungal resistant, PVC, latex and solvent free, biocompatible, and pressure relieving while offering lasting comfort and durability. The range of materials have passed biocompatability analysis for cytoxicity, primary skin irritation, and dermal sensitization for surface device contact with intact skin per ISO 10993-1 and FDA G95-1 guidelines.
BISCO® Medical Silicones offer long-term comfort and durability. As both open and closed cell structures, they maintain their dimensional stability even when exposed to dry heat, steam electron beam, ethylene oxide, alcohol and gamma radiation. BISCO Medical Silicones are ideal for body contact devices in life-saving procedures, imaging (sonography surface), and sterile surfaces ("cleanroom" surfaces).
PORON Medical® Urethanes are medium density and open celled, breathable and fungal resistant, and offer lasting comfort, durability, and biocompatibility. They are flexible, resistant to collapse, and possess excellent shock-absorption capabilities, making them ideal for cushioning applications such as protective garments, prosthetic cushions and pressure point pads. In monitor applications, these foams may be used to hold monitoring devices to the body and in oxygen sensor pads. They can also be used in appendage wraps and monitor grips where soft restraint is required. They are offered in three grades:
PORON Medical Soft Cushioning and Soft Supporting - providing long-term comfort; compression-set resistant, and fungal resistant.
PORON Medical Firm Energy Absorbing - offers high-energy return and excellent impact absorption.
PORON Medical Slow Recovery Custom Contouring and Fit Accomodating - offers controlled energy return resulting in a customized fit during each use. Stick around and feel better with Sekisui Voltek foams. The design possibilities for Sekisui Voltek foams in the tape and health care industries are practically endless. Tape applications include automotive body side moldings, medical grounding pads, single- and double-sided tapes, sealing gaskets and self-stick gadgets from air fresheners to towel racks. Health care uses include incontinence guards, suture holders, splints, cervical collars, EKG pads, transdermal drug delivery patches and specialized packaging.
Crosslinked polyethylene product benefits for tape and health care industries Volara® • excellent consistency and gauge control • A and EO grades meet FDA regulations for food contact • can be vacuum formed • low vapor transmission • resists moisture • will not absorb body fluids • soft
Volextra® • additional surface performance and decorative advantages • combines softness and rigidity • can be vacuum formed • ideal for custom options
Minicel® • choice of densities • soft and clean • non-friable and non-absorbent • can be compression molded
---