WATER JET CUTTING
Service Detail from Merryweather Foam, Inc.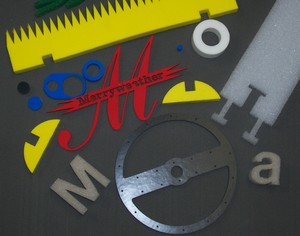 WATER JET CUTTING
Water jet Cutting is ideal for many foam, rubber, plastic, insulation and woven materials. With an extremely fine cutting stream (down to 0.004" or 0.1mm) very tight nesting and therefore good material yields can be obtained. Waterjet is great for stack cutting, with thickness up to 6" commonly achieved.
The versatility of Waterjet Cutting makes it ideal for the manufacture of gaskets. Capable of cutting anything from hardened spring steels, to non ferrous materials such as brass and copper to delicate graphite composites and papers. Prototypes or short runs can go from design to finish parts in minutes.
---