Mersen Announces Product Recognition App
Featured Product from Mersen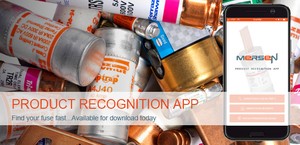 This industry-first feature gives the user the option to search for a competitive cross reference via direct text input or photo recognition. Simply use a mobile device to scan the fuse into the app for identification. Mersen's Product Recognition App will do the rest and suggest a match based on the photo.

Mersen's NEW Product Recognition App lets users:
Search for a product via photo or text input

Identifies Mersen and competitive products

Locates Mersen Sales Representatives nearest the user based on GPS location

Selects proper motor and transformer fuse sizing based on user input


Mersen's application experts developed this app in response to challenges faced by customers and electrical professionals who wanted a quicker way to identify and select our products.


"More and more electrical professionals use their smartphone or tablet devices in their day-to-day work activities. It just made sense to harness the latest in digital technology and develop a tool like this for them," says Kent Walker, Mersen's VP Solutions Engineering & Technical Services, USA/Canada.


The Mersen Product Recognition App also gives users the option to enter voltage, horse power or KVA rating details into an easy-to-use template to find proper protection for their motors and transformers to meet NEC requirements.

Click to learn more the new Product Recognition App.
Mersen's Product Recognition App is available for download from the App Store or Google Play.