Solving electrical issues at remote oil/gas fields
Product Announcement from Mesta Electronics, Inc.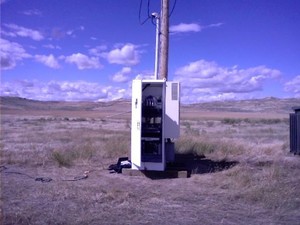 Oil & Gas Fields are often located in very remote areas with limited electrical service. The Variable Frequency Drives used at these installations are significant sources of harmonic distortion. Utilities are often concerned with harmonic distortion in these areas and require IEEE 519 compliance.
High levels of harmonic distortion can limit the amount of usable electrical capacity for these applications and neighboring facilities. Mesta panel mount DPM™ Active Filters can be integrated into Nema 4 enclosures with air conditioning and heaters for outdoor weather conditions.
You can see an example of a Mesta Electronics Digital Power Manager located in the wilds of Wyoming.
Contact us via the links on the left to discuss your electrical service issues in challenging environments
---