Trouble with Power Quality & Utility Fees?
Product Announcement from Mesta Electronics, Inc.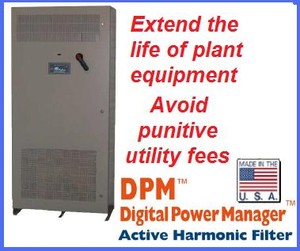 Extend the life of plant equipment. Avoid punitive utility fees. Mesta DPM™ (Digital Power Manager) a true Active Harmonic Filter dramatically reduces harmonic distortion caused by non-linear loads. A single DPM™ can correct for multiple plant loads, provide instantaneous harmonic correction, near unity power factor, and facilitate IEEE 519-1992 compliance
Mesta DPM™ Digital Power Manager Active Harmonic Filter reduces harmonic distortion to less than 5%,while balancing the power and improving the power factor to the plant utility grid.
Features:
Actively Eliminates Harmonic Distortion
Improves Power Factor to near Unity
Balances Three Phase Line Current from the Utility
Advanced control provides instantaneous response to load changes and superior system stability·
Built in Power Analyzer for monitoring system performance
Units can be paralleled for higher current applications
UL and CUL Listed
Benefits:
Reduces harmonic distortion to the levels needed for IEEE 519-1992 compliance
Does not require a detailed engineering study for proper sizing and application of the filter
Instantaneous response eliminates the probability of high transient harmonics during sudden load changes
Reduces utility costs by eliminating harmonics and increasing the power factor to near unity
Prevents overheating and extends operational life of plant equipment
Balancing of three phase lines effectively increases usable system capacity
System can correct harmonics for entire facilities or a single load
Visit Mesta Electronics Pioneers in Power Electronics to learn more or access the detailed DPM™ brochure
---