Swiss Screw Machining Could Save You Money
Service Detail from Metal Cutting Corporation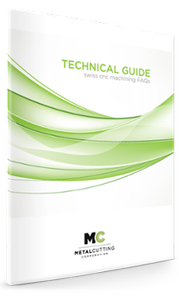 Get Answers to All of Your Most Essential Swiss CNC Machining FAQ's
Quickly and easily understand if Swiss CNC Machining is the right fit for your production needs.
If you're thinking about how to meet your next complex design challenge, looking to shorten device time-to-market with screw machine parts, or considering adding Swiss CNC Machining to your process plan you may have some questions.

This Technical FAQ Guide to Swiss CNC Machining will help you:
1. Quickly understand the advantages of Swiss machining.
2. Address concerns about part quality, part tolerances, and time and cost savings.
3. Make better, more informed decisions when selecting a vendor for your Swiss CNC Machining needs.
Download the FREE Technical Guide to Swiss CNC Machining FAQs, today!
Metal Cutting Corporation manufactures burr-free tight tolerance parts from all metals. We provide the precision required by medical device, automotive, electronic, biotechnology, semiconductor, aerospace, fiber-optic, electrical and many other diverse industries.
We are specialists with over 45 years cutting, grinding, lapping, polishing and machining metal parts. Our experience, inventory and capabilities provide the skills and capacity to meet the needs of technology device manufacturers. Specialty metals, micron tolerances, low or high volumes, complex metrology--all these and more are the requirements we achieve every day for products shipped worldwide.