Comparison of Precision Cutting Methods
Featured Product from Metal Cutting Corporation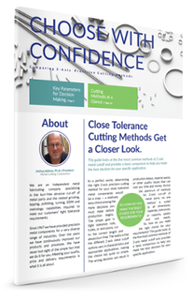 The wrong precision cutting method could cost you time and money.
But choosing the right one can be complicated.
Comparing Cutting Methods Mockup In a perfect world, determining the right 2-axis precision cutting method for your close tolerance metal components would be a snap — a relatively easy choice among the many decisions you need to make before production begins. But across the spectrum of methods for 2-axis cut-off of metal parts, no one method is suited to all needs and the wrong decision can result in production delays, material waste, or other quality issues that can cost you time and money. So, how do you make the right choice for your requirements?
This guide is designed to help you determine which precision cutting method is best for your requirements. It includes:
A comprehensive overview of key parameters for decision making
A cost/benefit analysis of the 5 most common precision cutting methods
A handy chart to help you quickly compare all 5 methods at a glance.
Don't wait. Get the knowledge you need to make an easy, informed choice and get back to doing all the important things you do best.
Metal Cutting Corporation manufactures burr-free tight tolerance parts from all metals. We provide the precision required by medical device, automotive, electronic, biotechnology, semiconductor, aerospace, fiber-optic, electrical and many other diverse industries.
We are specialists with over 45 years cutting, grinding, lapping, polishing and machining metal parts. Our experience, inventory and capabilities provide the skills and capacity to meet the needs of technology device manufacturers. Specialty metals, micron tolerances, low or high volumes, complex metrology--all these and more are the requirements we achieve every day for products shipped worldwide.