Electrodes Underperforming?
Service Detail from Metal Cutting Corporation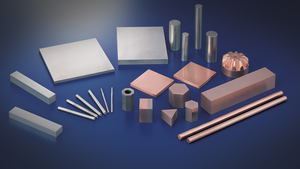 DOWNLOAD THE TECH PAPER
Electrodes Underperforming?
Learn more about Non Defective Bonded electrodes for spot welding applications.
Metal Cutting offers specialty refractory metal electrodes. Our electrode materials expertise is in tungsten, molybdenum and their alloys, including copper tungsten and silver tungsten as well as carbide compositions and heavy metal electrodes. Our electrodes are used in high speed large volume automated resistance spot welding manufacturing environments and are also excellent for die sinker EDM.
Copper Tungsten is by far our most popular electrode material for both applications. Die Sinker EDM requires various compositions and we offer all the standard ratios in small to large sizes with uniform blending throughout the block and superior density to eliminate porosity. Our powder metallurgy expertise produces materials that are easily machined to your final shape.
We even have a new proprietary composition that has been specifically formulated for exceptional speed and wear performance for the electrical discharge machining of carbides. This exclusive new material grade is C-EDM and it outperforms even our own standard Copper Tungsten electrodes. C-EDM has been shown to have a 52% longer life and cuts at 25% faster speeds, resulting in significant manufacturing advantages.
For resistance spot welding, copper tungsten, along with silver tungsten, carbide compositions and heavy metal are available for suitable welding requirements. We have expertise in the perfect electrode material selection and compositional ratio for welding your high conductivity metals using our range of low conductivity electrodes.
Our significant advantage is that we offer these electrodes with our patented non-defective bonding method. Compared to conventional brazed or press fit electrodes, our non-defective bonding method eliminates the voids and gaps that inevitably occur between the spot welding electrode and the shank that holds it.
This uniform and continuous non-defective bonded connection between the two materials ensures consistent resistance and thermal conductivity, prevents hot spots that lead to failures and results in the longest possible electrode life to minimize downtime in automated spot welding manufacturing environments.
Metal Cutting's long history of supplying and manufacturing high grade, exceptional quality tungsten materials has made them an authority in the industry and afforded the company global supplier status.
Metal Cutting Corporation manufactures burr-free tight tolerance parts from all metals. We provide the precision required by medical device, automotive, electronic, biotechnology, semiconductor, aerospace, fiber-optic, electrical and many other diverse industries.
We are specialists with over 45 years cutting, grinding, lapping, polishing and machining metal parts. Our experience, inventory and capabilities provide the skills and capacity to meet the needs of technology device manufacturers. Specialty metals, micron tolerances, low or high volumes, complex metrology--all these and more are the requirements we achieve every day for products shipped worldwide.