Aerospace Identification Products
Service Detail from Metal Marker Manufacturing, Inc.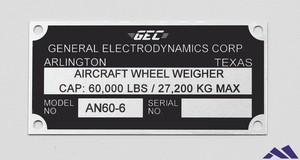 Award winning aerospace identification products manufactured to your specifications and delivered on time using an ISO 9001 + AS9100 Certified Quality Management system. Metal Marker produces a variety of aerospace identification products. Examples include:
Identification Plates
Instruction Plates
Color ID Bands
Aircraft Placards
Aerospace Nameplates
Labels
Decals
Metal Marker offers:
A wide range of materials (from Decals to MetalPhoto®). A variety of colors and adhesives are available.
The capacity to efficiently produce both small and large quantities.
The ability to include barcode or UID marking on your aerospace identification products. We can also include your logo or other unique artwork.
Metal Marker is a uniquely qualified supplier of aeropace identification products. The following are some reasons to use Metal Marker for your next purchase of aerospace identification products:
Easy ordering.
FAST delivery of custom products.
ISO9001 + AS9100 Certified Quality Management system.
In business since 1923.
Award winning quality and delivery in the aerospace industry.
Knowledgeable Customer Service Representatives work with you to develop the solution to best meet your needs.
BBB - a Better Business Bureau Accredited Business.
Made in USA.
Benefit from the Metal Marker Advantage - Visit our Metal Marker Advantage webpage to learn more.
Don't take our word for it - Visit our Testimonial webpage to see what our current customers have to say.
Make Metal Marker your source for aerospace identification products. Contact one of our customer service representatives to obtain additional information or a quote. Contact a customer service representative via our on-line Real Time Support, call us at 1-800-428-0095 (or 440-327-2300), or fill out the information on the Contact Us webpage on our website to get started.