Data Plates
Service Detail from Metal Marker Manufacturing, Inc.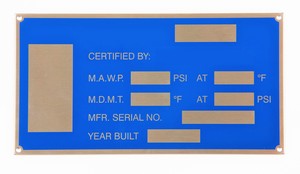 Our custom data plates are built exactly to your specifications. These highly durable identification plates are used in a wide range of applications.
Designed for industrial use, they are affixed to equipment, machines, tools, and more. Whether it's providing specifications, safety warnings, or additional information, custom data plates provide an effective way to mark information. Metal Data plates for industrial applications are produced in several different substrates to fit various specification and durability requirements. Learn more about the substrates
At Metal Marker, our focus is high quality custom identification solutions. We provide you with the peace of mind that you're getting the right product for your needs.